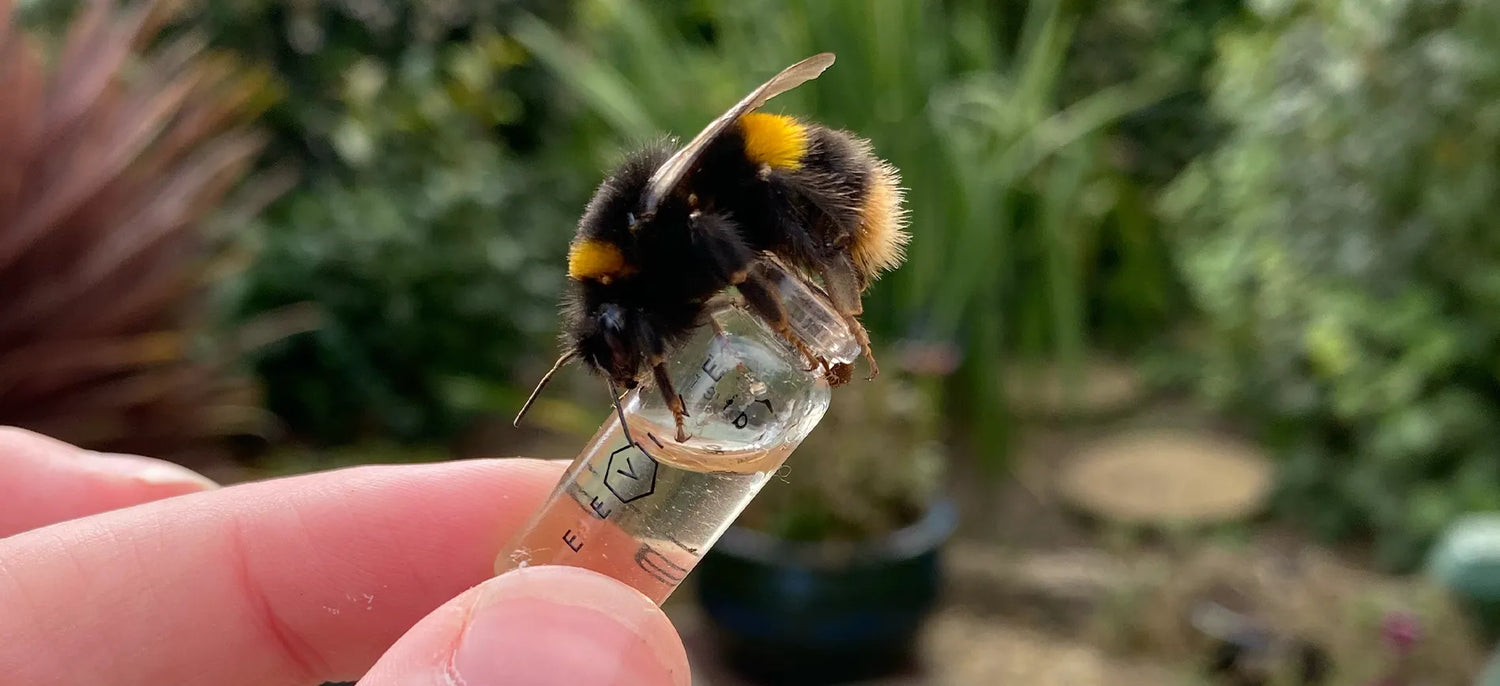 How to Correctly Save a Tired Bee with Sugar Water
The RSPB recommends offering a small amount of sugar water made with 2 parts sugar and 1 part water. If you have your bee revival keyring, this is an easy step towards being prepared when away from home.
READ THE BLOG
We have a range of products to help save bees, including our original Bee Revival Keyring for tired bees, SEEDBALL's for scattering wildflower seeds and a BEEVIVE Bee Hotel to provide essential shelter for bees to nest, rest and lay eggs!
Let customers speak for us
---
Proud to bee working with
---
Joanna, Etsy

I love this! Great to be able to help out the tired bees and is very satisfying to watch them fly off when they have perked up :)"

Lisa, Amazon

Great gift. Fantastic product, looks great, beautifully presented and branded. Loved the information included also. Bought as a gift and the recipient loved it too!"

Taylor Brianne, Etsy

Ordered this as a gift for my youngest sister for Christmas. She was so excited to open it! It's such a unique idea and the packaging was some of the best packaging I've ever seen for any product. Really high quality, will definitely order form here again. Thank you!"

Secret Santa Guru

"A must have for a country walk, imagine how bad you'll feel if you've read this, not bought a Beevive kit and then you come across a tired bee..."

Samantha, Etsy

"Great quality, exactly as described. Was despatched quickly and arrived on time. Very well packaged, and all the packaging was recyclable. Very glad I bought two as they are exactly what I wanted."

Helen Bannister, Google

"Brilliant products! I bought the Bee Revival kit and have rescued 2 bees already. Great little thing to have in your pocket, small and very well made. A friend saw mine and wanted one so placed another order. Fast delivery and eco packaging. Well worth the little investment, help save the bees!"

Breda Greaney O Neil, Google

"A 5 star product! I got this for my husband and he loves it. Such a unique, innovative, quality product . It's an ideal gift for bee & nature lovers. It fits neatly onto keys, so it's always near when needed. I'll be ordering again as I just know whoever I gift it to, will love it. Thank you for the friendly, 5 star quality customer service."

Nikki Payne, Google

"I was given my Revive key ring as a gift and loved it so much that have since purchased several more as gifts, all have been extremely well received and will help raise awareness of the importance of bees"

Becks, Amazon

"Fantastic product! Original idea for a very good cause. I bought this as a present for a friend and they were over the moon with it! Such an original idea for a very good cause. The key ring is very well made and looks great! Will definitely be buying again!"

Charli, Google

"I've followed this company since the start and I recommend their key rings to everyone - such an unusual gift, good value and the customer service is amazing. Feels great to rescue those little bees in need! 🐝"

Ariana, Amazon

"This is amazing! Love how small and convenient it is, love that it comes with the sugar water already, and love that'll help little tired bees on their way! Bought one for myself and gifted one to my bee-loving mom!"

Sarah Hayhurst, Google

"Amazing products, amazing service, and amazing information. Anything u need to know all you have to do is ask and they are right there. And the awareness they bring to our bee issues and conservation is second to none."